Tiki-Taka was introduced to the world of football by Johan Cruyff during the last 80s of the 20th century.
Pep Guardiola was named head coach of FC Barcelona back in 2008. He moved from being a doubted choice to a legendary football coach. A man that revolutionized the game and improved Tiki-Taka, making it almost perfect. How did he do that?
For starters, let us get a quick reminder of how this ideology works:
-Playing in triangles during the build-up.
-Passing the ball around quickly and directly.
-Always have a teammate free to receive a short pass.
-Having midfielders with excellent positioning.
-Use a very high defensive line with the help of the defensive midfielder.
-Denying space to opponents behind the defense by having a sweeper-keeper to sweep every dangerous long ball, even outside the penalty area.
-Players have the freedom of movement in the last quarter to create gaps in the opposing defense.
However, when Xavi and Iniesta left Barcelona, the club had to modify their playing style while they kept on looking for a replacement for both Xavi and Iniesta in the likes of Rakitic, Arthur and De Jong.
Barcelona started playing more direct football using the speed, technique and finishing skills of their strikers (Messi, Dembele, Griezmann, Suarez, Fati, Neymar) under Luis Enrique and Valverde. This helped them move the ball to the final third of the field much faster. It obviously dropped the levels of passing accuracy and possession, but the results are still here.
Barcelona were and still are loyal to their playing philosophy. Ever since Quique Setien was assigned as their new head coach, they started moving the ball around more often which has been reflected on the possession statistics ever since Setien took charge of the Catalan squad.
What one should know is that Tiki-Taka can be played in many ways. The principles remain the same, it is just the methods of deploying it that are different.
Sarri-ball for example is a philosophy that is highly inspired of Tiki-Taka. It has the same basis: possession, moving the ball in short passes, having a sweeper-keeper, freedom of movement.
Sarri's Chelsea was all about possession. Their aim was simple: progressing the ball through a player moving forwards, either by finding a direct pass to an advanced attacker, or by a player dropping off, returning the ball, and moving into space again, but always with a general movement up the pitch.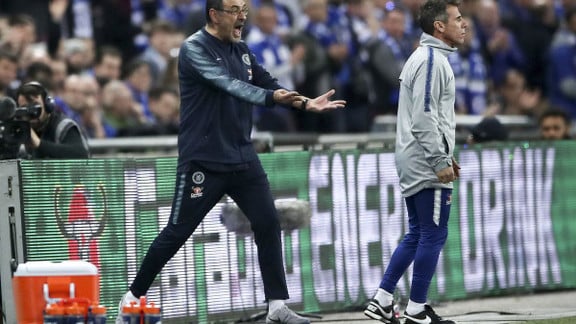 Pochettino's Tottenham also played Tiki-Taka inspired football. They used Alli's speed, strength, and positioning and Eriksen's passing excellence and vision to dominate their games by having the possession.
They also moved in triangles while looking for Harry Kane. They did all this using numerous short passes and dictating the pace and style of the game.
You've got it, Tiki-Taka is not dead, it has evolved.
Teams have learned to stop it while some others have learned to master it and try to improve it. This brings us to whole other subject: ''Are tactics an exact science?''. Let us know what you think in the comments and we will come back to it in an upcoming article.
_______________
Sources:
Sarri: https://le10sport.com/football/angleterre/chelsea/chelsea-sarri-kepa-cette-scene-surrealiste-qui-fait-le-tour-du-monde-437535
Pochettino: https://www.les-transferts.com/etranger/premier-league/tottenham-mauricio-pochettino-avoue-avoir-envisage-un-depart-cet-ete.html